Toys & In-Game Items
If you have created any breedfiles, toys, tack, graphics, etc. that you would like added to the site, please email the file(s) and other relevant information to: jewellzc@yahoo.com
Grooming Kit
Created by Skitzo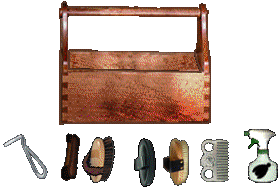 These only come in a Petz 4 version! If you happen to have the P5 files, please get in touch so I can put them up as well.
Per Skitzo: Feel free to recreate items etc.
Pack contains a hoof pick, curry brush, mud-curry brush, dandy brush, regular brush, fly spray, mane comb and a nice wooden box to store it all in.
NOTE: The fly spray works like the spray bottle! It's good for pictures etc. but maybe don't ACTUALLY spray the horse...
Gossipin Horse Pack
Created by Manda

These aren't for download here, but they're very nice!
Visit Gossipin then Downloads > Toys > Manda's Toys
Laptop Pony Play Pack
Created by Rafa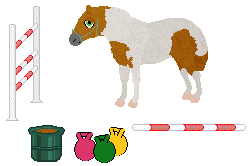 Per Rafa: The play pack includes some pony scaled toyz (feed bucket, jolly ball, jump, and cavaletti), 3 different playscenes (these do NOT work on my screen resolution, but they're included because they may suit yours), and 16 different colored halters. Again, feel free to edit these files as you see fit. If the jolly ball doesn't come in your favorite color, open it up in LNZ! Hexing halters to change the color is super easy too.
Mythic Silence Toys
Created by ECRose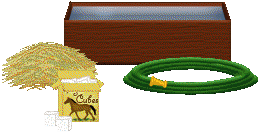 These aren't for download here, but they're very nice! Visit Malevolent then check out their Toys and Treats sections. There's also ton of other cool stuff for dogz and catz as well!