About
The Seeing Stars' Site
This companion site was put together to help new members just starting out at Seeing Stars, as well as more experienced members that just want to double-check or download something.
It is a compilation of all the resources and guides, as well as breedfiles, toys, and other items that are useful to anyone who wants to play, hex, breed, or show Petz horses at Seeing Stars into one spot, as opposed to scattered threads throughout the forum.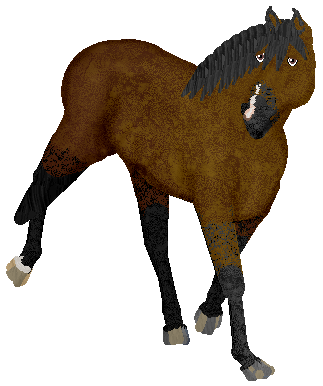 Petz Horses
As the Petz Community grew, 'hexing' became one way to differentiate yourself and your pets form everyone else. 'Hexing' means hex editing, altering a .pet file or a breedfile's code to be different from the original, often in a visual way, such as making white Great Danes with brown spots. At first, you could only do this using hex editor programs, but Nicholas Sherlock, a software developer and Petz fan, created several helpful programs for the community, such as PetzA, Petz Workshop, and LNZ Pro, and put them up for download at Sherlock Software to make petz hexing much easier for everyone.
Several members of the community set out to make horses. Manda's v1 horse base was the first to take the community by storm. Her v2 base file looks much more realistic and has impressive movement in the game. Rafa's v2 and v3 files show great attention to detail and allow for quite a bit of customization. Dane's elusive Havoc Horse is the largest of the files, but also very rare as it was never released - most members who had one are inactive.
All of the accepted horse files at Seeing Stars are Great Dane overwrites. They've been altered so they look like horses and they are silent - no barking! However, sometimes they do act more like dogs, very excited for frisbees and such. This is because, as far as the game knows, they ARE a dog.
At first, none of the horse breedfiles were available to the public and they were more exclusive, for "fileholders" only. As the Petz Community diminished, Manda and Rafa released many breedfiles available to all. Modders, people who modify the base file into a certain breed or shape, have also been allowed to decide whether to release their mods to everyone, which is why many files by Haubing, Mak, Jewellz, and others are included in the breedfile downloads section.
Seeing Stars
Seeing Stars is a forum created for the Petz Community to show, breed, hex, race, and otherwise enjoy Petz horses. Members can create their own stable with an exclusive prefix (or suffix), choose custom stable colors, even design some racing silks, and interact with other horse-lovers in the community by showing, hexing, breeding, selling, and adopting horses.
The main attraction of the forum is that it is the only place that showing and competing with Petz horses is allowed. All members are encouraged to enter and participate in shows, as well as host their own. Horses can compete in disciplines like Dressage, In-Hand, Show Jumping, Thoroughbred Racing, and many others. A horse that earns a certain amount of points from competing in shows for a certain discipline would be considered a Champion in that discipline. If a horse earns multiple titles in various disciplines, it's generally considered a good breeding prospect, especially if it got lots of higher placements (1st, 2nd).
Petz Games
The Petz games date all the way back to 1995, when the original games,

Catz I and

Dogz I, were first released.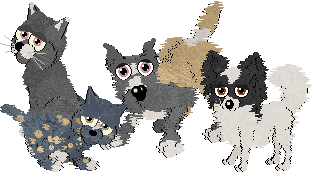 Catz 3, Dogz 3, and Petz 3 introduced breeding - two pets could fall in love and have a baby. The baby would inherit some traits from both parents and could be bred to other pets. The game kept track of the generations of a pet with a family tree inside its in-game profile.

Today, Petz 4 is the most popular game within the Petz Community, as it is easily available online and allows for compatibility with Petz 3 as well as Petz 5. It's also not as finicky and glitchy as P5.

Petz 5 introduced a few new features, most notably that petz could have litters of 1-4 pups or kittens, instead of just 1 baby at a time, ten new breeds, and some new play areas. Unfortunately, the program tends to be glitchy and until recently, petz from P5 were not backwards-compatible and could not ever be returned to P4 or P3. However, Reflet, a member of the Petz Community has released a tool, PetFlux, that can convert P5 petz to a version that is backwards-compatible, as well as a couple other useful tools.
HINT: If you don't have Petz 4 and want it, you can download it from Reflet's site!
Check out Reflet's site, Yabiko