Thoroughbred Racing
Rules
There is no criteria for a pose. You must include a picture of the horse with your entry but anything goes!
Editing the pose is OPTIONAL. Horse may wear English/Racing tack:

Saddle & pad
Bridle (bitted, shadow roll optional)
Girth
Hood (optional)
Leg wraps/bandages (optional)

Jockeys are allowed.
Editing of the pose is more lenient, you may draw a mane & tail, but NO freeform editing (like Showmanship-style).
Disqualifications include: horse isn't suitable for the race, e.g. not a maiden but entered in a maiden race.
Heavy faults include: none, although entering a horse on a surface it is "okay" on, or in races which are not inside its preferred distance range will typically see it perform poorly.
Guide
Racing is unlike every other discipline at Seeing Stars because we use another game to 'import' our horses into and run the races. We use Gallop Racer 2006. Everything about Racing, from the stats, abilities, racetracks, and silks designs, is pulled from GR 2006. Each time a race is held, the horse is imported/updated in GR and then it runs the race in GR. Sometimes, you'll even be able to watch a YouTube video of the race being run. I find the videos especially helpful to watch so I can see if a horse broke slow, or if it tossed its head a lot and just didn't want to settle, or other little things that might give me a hint which stats to focus on increasing.
A typical Racing entry for a horse looks like:
Speed
: 62
Staying
: 61
Stamina
: 62
Breaking
: 55
Power
: 62
Feel
: 57
Fierce
: 57
Tenacity
: 60
Courage
: 57
Response
: 60
Distance
: 11 - 16
Leg Type
: Closer
Abilities
:
Closer
.:.
Persistency
.:.
Stubborn
Dirt
:
Okay
Turf
:
Great
Name
: Confrontation -
Rhapsody Moment of Truth
Color
: Bay
Gender
: Male
Bandages
: Back
Neck Height
: Normal
Run Style
: Normal
Hood
: Yes
Shadow Roll
: No
Stable Name
: Rhapsody
Racing Colors
: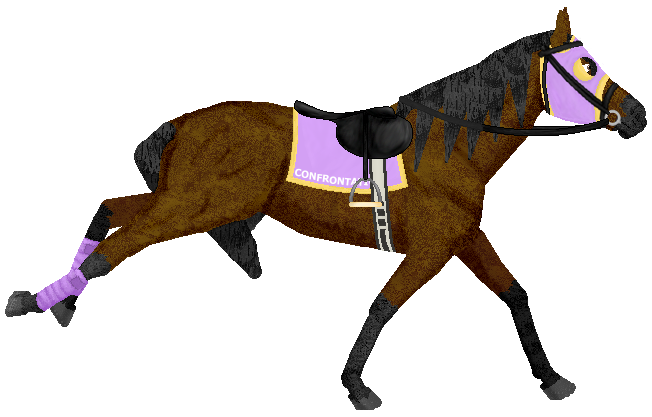 Check out the following guide and tips by Neco to figure out how the stats, abilities, and everything plays into this discipline. You can find all of this information at SS, but I've clarified it to hopefully make it easier to understand. If you want to get really in-depth, make sure to read Neco's whole thread on SS.
Getting Started
First things first, you need a Thoroughbred!
Once you've adopted your horse and named him or her, you'll have to assign its stats, abilities, surface preference, and distance preference. These all dictate what kinds of races your horse will excel in and its 'racing personality'- whether it's gutsy, a tryer, up for anything, or hates having other horses too close.
NOTE: USUALLY a horse races under its "call" name or "barn" name, not its show name. You can race it under its show name if you really want to, but I personally feel weird racing a horse with its prefix, or removing the prefix from the show name... ALSO, names in GR are only 14-15 characters, so anything longer will be abbreviated or cut off.
So let's walk through the process of setting up a TB for Racing. Here I have this pretty filly, and I've chosen to race her under the name "Reckless Flame" so that will be her call name (and I'll probably just refer to her as Flame for short). Her show name will be something else, and isn't relevant to racing. For the rest of this page, you can just look for the colored text if you want to follow along with Flame's journey to becoming a racehorse.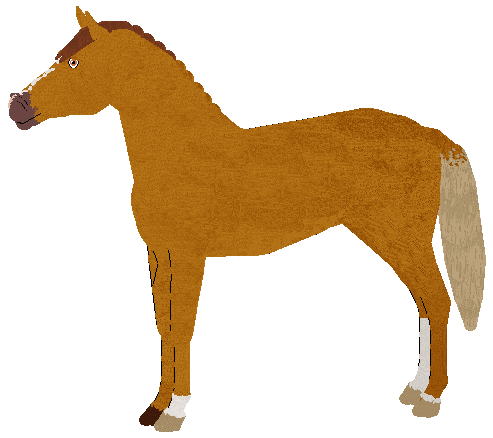 So, we have our TB, now she needs her stats and other things so we have a complete racing form to enter her in training, and eventually, in races.
Stats
Stats is the fist part required in the racing form. Every racehorse has the following stat categories and every racehorse starts out with 50 in each category. Bred racehorses then get boosts and bonus points added to their beginning stats, which you can check out in its own section below, if your own horse was bred.
Flame is a 1st gen horse so she gets 50 in each stat, seen below.
Speed: 50
Staying: 50
Stamina: 50
Breaking: 50
Power: 50
Feel: 50
Fierce: 50
Tenacity: 50
Courage: 50
Response: 50

To increase a horse's stats, it may enter in training camps where owners can choose from certain training exercises and the horse will accumulate more points in certain stats related to that training exercise. However, once a horse reaches 60+ in four stat categories, it is no longer eligible for training.
So, Flame needs quite a few training sessions before she'll be ready to jump into the races. I usually try to train my TBs so that Speed, Staying, and Stamina are all 60+ and also try to get a couple more stats at 60+ too.
After a horse is done with training, it accumulates the rest of its stat points through running in races. Just like other showing systems at Seeing Stars, placing in the top 5 will earn your horse 1 to 5 points, while horses that place 6th and below will often be awarded 1 or 2 points assigned by the race host. Any points earned from placing in the top 5 are yours to place depending on your own preference, however, you must place the full points earned in only ONE stat of your choice. For example, you can't take the 5 points from winning a race and divide them and put 3 in Speed and 2 in Staying, the 5 must stay together and get added to only one.
Flame will get trained up later, but a fully trained TB's stats will look more like this:
Speed: 60
Staying: 60
Stamina: 62
Breaking: 57
Power: 62
Feel: 60
Fierce: 59
Tenacity: 58
Courage: 57
Response: 60

Distance Preference
The next section in the racing form is Distance. This is the horse's preferred race distance. At Seeing Stars, races can range anywhere from as little as 5 furlongs to as much as 16 furlongs.
An owner may choose their horse's distance preference as long as it falls in a 5-furlong range or less. For example, you could choose 6 - 11 as your horse's preferred distance range, or you could choose 12 - 15, but you can't choose something like 6 - 12 or 9 - 16, because the range is too great. I usually like to give my horses a range that spans 4 or 5 furlongs because then they can participate in more races.
NOTE: It's really not a great idea to enter a horse in a race that is outside of its preferred distance range. For example, a horse that likes races from 6 - 10 furlongs long usually won't fare well in a 12 furlong race.
When deciding on your horse's distance preference, think about what you want for it in the future. Are you hoping to run it in the Kentucky Derby? The Kentucky Derby is a 10F dirt race, so you'd want to make sure your horse is happy running 10F. If you're going to want to try for the Triple Crown, the whole range of Kentucky Derby preps, the Preakness, and the Belmont Stakes spans 8.5 - 12F. The British Classics (English Triple Crown) and trials races span 7 - 13F. No horse at SS can do a range that big, but 8 - 13F would get you close and participating in all of the Classics, at least.
For Reckless Flame, I've chosen 6 - 11F for her distance preference. This will enable her to show off her stuff in sprints (6 - 7F) and miles (8F) and some longer races as well.
Leg Type
The next section in the racing form is Leg Type. This is the horse's preferred position during the race. At Seeing Stars, we only have four positions to choose from:
Front Runner: This type of horse loves the lead and loves to run uncontested at the front of the pack. Often these horses hate the idea of other horses bumping or pushing them in the middle of the pack and will run away at the start to lead the rest of the field on a merry chase. These horses may or may not be able to hold off closers – more often they can fold under pressure.
Stalker: This type of horse is usually only a few lengths off the pace and tracking the leaders through each turn. These horses will bide their time then throw in a big move near the top or middle of a stretch, wearing down the leader to take over the top spot and hold on for the wire. Much like front runners, they may or may not be able to fend off the challengers of deep closers.
Follower: This type of horse is often found in the middle of the pack, happily running along and bumping into its fellows without a care in the world. They're content to run five or more lengths off the leaders and make their moves near the middle of the stretch and can sometimes simply overwhelm a tiring leader or kick back a challenging closer. They are similar to closers, but run nearer to the stalkers and leaders.
Closer: This type of horse often drops to the back of the field and trails the field throughout the race until it lets loose an explosive turn of foot coming into the stretch. These horses will often look like they're hopelessly beaten, then suddenly turn it on in the middle or deep stretch and charge down the track hellbent for the finish line. They can often overwhelm horses that ran near the pace and repel challenges from other closers.
There isn't really one leg type that does better than others, so don't overthink it. I, personally, find that closers and frontrunners require a little more thought and care when you choose their abilities (the next section) and when you enter them in races throughout their racing career. Stalkers and followers are a little more forgiving and so may be a little easier for beginner Thoroughbred owners. For Reckless Flame, I've chosen my favorite leg type, Stalker.
Abilities
The next section in the racing form is Abilities - this is where you pick your horse's characteristics and personality that it displays while racing. It's also best to save choosing the abilities until after you've chosen your horse's distance preference and leg type, because some abilities do better than others with certain distances and leg types.
A horse may have two good abilities and one bad ability, usually portrayed in green and red colors to help differentiate them. Abilities are PERMANENT and you can't change them once you pick them and enter them into training or a race!
Below are all the abilities you can choose from. There is no right or wrong combination, as long as you pick two positive and one negative, and they don't cancel each other out. For instance, you can't pick Fast Pace OK and then for the negative, pick Fast Pace Not OK... Gallop Racer just won't let you. If that happens, the first time someone tries to run your horse in a race, they'll probably be asking you to change one of the abilities before they run the race.
Positive Traits
Front Runner: Races well when leading the pack by a large margin. Only for front running horses.
Closer: Races well when overtaking horses around the final corner.
Free: Races well when out of position.
Spurt: Excels when spurting from the back of the pack to the front in the stretch.
Last Corner Leader: Performs well after taking lead around the last corner.
Stretch Burst: Shows a tremendous burst of speed to the finish line when happy throughout the race.
Likes Pack: Comfortable running in a pack.
Tough: Unfazed by bumping.
Grit: Excels going head-to-head with another horse to the finish line.
Slow OK: Races better in slower races.
Fast Pace OK: Races better in faster paced races.
Start Dash: Starts well at the beginning of the race.
Close Race OK: Excels in close races.
From Outside: Gives an impressive burst on the outside after staying towards the back during the race.
Best Course: Horse runs better up the rail/on the inside.
Whip: Accelerates faster than usual when whipped at the start of the race.
Solo Runner: Performs well when more than two lengths in the lead.
Second Wind: When leading the pack all race long, further separates the pack in the final stretch.
Last to First: Explodes in the stretch when trialing through the race.
Strong Heart: Whip gauge falls slower than other horses in the stretch if the horse still has stamina.
Pack Split: Horse does well spurting between horses.
Pace Down: Pace slower is okay.
Persistency: Keeps going.
Instant Response: Reacts quickly to the jockey.
Rough Track OK: Performs well even in rough track conditions.
Negative Traits
Inflexible: Cannot race out of position.
Loses Will: Easily distracted after taking lead around the last corner.
Hates Pack: Upset when caught in a crowd.
Delicate: Easily upset by bumping.
Slow Pace Not OK: Races poorly in slower races.
Fast Pace Not OK: Races worse the faster the pace.
Close Race Not OK: Performs poorly in close races.
Bears: Bears right and left when stamina runs out.
Dust Not OK: Doesn't do well with dust.
Slow Start: Slow at the beginning of the race.
Rough Track Not OK: Races poorly in rough track conditions.
Stubborn: Sprints uncontrollably when spooked.
NOTE: Certain traits may not be paired together! For example, you can't choose both "Tough" and "Delicate".
So, I know Reckless Flame is a stalker that prefers short-ish distances 6 - 11F. I also think that shorter races tend to be more faster-paced, so for her negative ability I am going to choose Slow Pace Not OK, as I think it will be rare that she will be running a race that is slow going. (This is just what I think, and my personal opinion, not fact!) If she were a front runner, I might choose something more like Delicate, Hates Pack, or Dust Not OK, because if she was running on the lead, she wouldn't often be in the pack getting bumped or have horses in front of her kicking up dust. If she were a closer or follower, I might choose Loses Will, Bears, or Slow Start. Because closers and followers prefer being in the back of the field, a slow start doesn't affect them much. They're also rarely taking the lead at the last corner because they're still kicking into gear with horses in front of them and, in general, when you're increasing a closer or follower's stats, stamina takes precedence over most others, so it is rare that they would run low on that stat.
For positive abilities, I'm choosing Start Dash and Stretch Burst for her. Stalkers tend to like 'stalking' the leaders, but if they break slow, they end up running back further with the followers and some of them don't like that. I also know that Flame is going to be running more sprints and miles than anything, and she'll need a good position near the front of the pack coming into the stretch to make her move quickly and pull off a win.
Strech Burst is also a great ability for stalkers and followers in general, because they're rarely unhappy with their position during the race. Because you get two positive abilities, you don't need to spend too much thought trying to pick the 'best' ones. I usually try to pick two that work well together but aren't too similar. For instance, I probably wouldn't pair Start Dash and Whip, Grit and Close Race OK, Front Runner and Solo Runner, or Strong Heart and Persistency, because they make each other a little redundant. That's just my thoughts. I'd rather choose two that do different things so that if one doesn't work well, the other one hopefully does.
Surface Preferences
The next section in the racing form are the surface preferences for dirt and turf. A horse can be great at one and okay at the other, or good at both, it's up to the owner/breeder. A horse can't be great in both.
NOTE: It is not recommended to run a horse on a surface they are "okay" in. They generally perform badly against horses who are "good" or great" on it, and they should stick only to the surface they are "great" on. The beauty of horses "good" on both types is that while they don't run quite as well as "great" horses, they can run on both surfaces just fine and build up stats quicker because they run more races in a shorter amount of time.
For Flame, I'm choosing her to be great on turf and okay on dirt. In my experience, having a turf or dirt 'specialist' is better than having an all-rounder that is good on both, because most of the time, the specialists beat out the 'good' horses. However, a horse that is good on both can gain stats a lot quicker in the same timeframe. It's really not a big deal either way, I just prefer taking my time with specialists. Note that the Kentucky Derby and Triple Crown races are all held on dirt, while the British Classics (English Triple Crown) are all held on turf, so if you're specifically wanting to point your horse to one of those (but not both), a specialist would probably be the way to go.
Racing Gear & Running Style
The final section of the racing form asks for the name, color, and gender of the horse. Then it asks about bandages, neck height, run style, hood, and shadow roll. All of those affect the way your horse will look in Gallop Racer - whether it wears extra gear beyond the saddle/pad/bridle and its running style.
Well, Reckless Flame's name is...Reckless Flame. For color, she's a chestnut, and for gender, she's a filly, and I can put "filly" or "female" or whatever works. For bandages, the options are none, front, back, or both (for all four legs). For Reckless Flame, I'll choose "none" because I want to show off her nice long stocking on her back leg, and I honestly think that the bandages are just for aesthetics and don't really do anything for their racing. I'm not sure any of the extra gear does, but don't quote me.
Neck height can be either normal or high. A high neck height means the horse carries its head a little higher while running, it tends to look a little perkier and prouder. Run style can be either leg lift or normal. Leg lift means the horse picks its legs up a little higher, its run looks a little more animated and lively, like the horse is really digging in. I'm going to choose "normal" for both for Reckless Flame because she's a little bit small and because I tend to only choose otherwise if it's a bred foal and one or both of its parents had a high neck or leg lift. However, I don't think they really affect how the horse races, it's just how it looks while racing. And a horse with both high neck and leg lift stands out a little bit more.
For hood, yes or no if you want your horse to wear a hood when it races or not. It's also a good thing to specify if you want the ears covered with the hood and if you do/don't want blinkers with the hood. Since most people want blinkers with the hood, the raceholders just default to put blinkers with all hoods. Ear covers are not typical though, so if you want those, make sure your hood picture includes them or the Hood section says "yes, with ears". I'm choosing no hood for Flame, so I'll put "no".
For shadow roll, you can choose yes or no. I'm choosing "yes" because I think they look neat. I'm not sure if hoods/ears/blinkers/shadow rolls do anything for their racing, but IRL they do, so perhaps something like that is built into the Gallop Racer game. Who knows? Not me... Blinkers could be helpful to a horse that's nervous or distracted by large crowds of people, other horses getting close, or suspicious-looking bushes on the side of the track. A shadow roll can help keep a horse's head down (if it carries its head high) and make it more manageable and also help it from spooking at/trying to jump small shadows or other things on the track, because it can't see the ground too close under it, only further out in front. However, this equipment has also been known to backfire on trainers, as horses can react unpredictably and unfavorably to having their vision restrained.
Complete Racing Form
As soon as I add a racing image/pose (which doesn't need to be a pose at all - it's just a visaul reference that raceholders use to try to make the Gallop Racer horse look as much like your horse as possible) and either an image or text description of my racing silks, Reckless Flame is ready for racing - as soon as she gets trained up and has some 60+ stats!
Speed
: 50
Staying
: 50
Stamina
: 50
Breaking
: 50
Power
: 50
Feel
: 50
Fierce
: 50
Tenacity
: 50
Courage
: 50
Response
: 50
Distance
: 6 - 11
Leg Type
: Stalker
Abilities
:
Start Dash
.:.
Stretch Burst
.:.
Slow Pace Not OK
Dirt
:
Okay
Turf
:
Great
Name
: Reckless Flame
Color
: Chestnut
Gender
: Female
Bandages
: None
Neck Height
: Normal
Run Style
: Normal
Hood
: No
Shadow Roll
: Yes
Stable Name
: Rhapsody
Racing Colors
: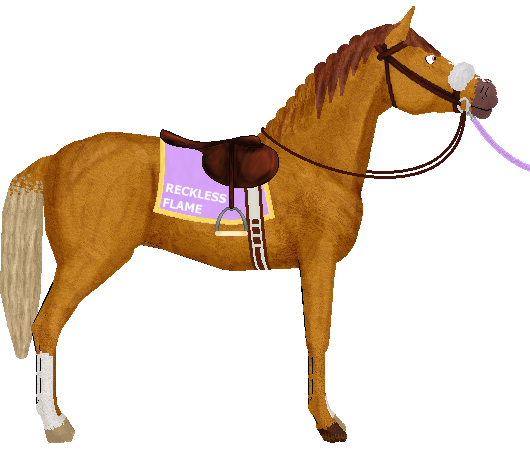 Grade Levels
Most racehorses start out at Open Level. This is the lowest grade of Racing. Once a horse has three or more stats at or above 65, it graduates to Grade 3. At Grade 3, a horse is considered "champed" in Racing and typically becomes eligible for breeding. I usually wait until the horse is nearing or at Grade 2 before breeding it, but everyone has their own preferences.
If a horse has two or more stats at 75 or above, then it graduates to Grade 2, and a horse with ANY stat at 85 or above graduates to Grade 1. Stat points cap out at 90 - no stat can go above 90!
Graded stakes and races are more much coveted than the open stakes we run for the open level horses and will definitely up a horse's stud fee and desirability when people are looking for a stud or dam for their horse. For our system, we follow the American system of "Grade 3," "Grade 2," and "Grade 1" for how they grade their races. Grade 3 is the lowest tier, Grade 2 is the middle, and Grade 1 is the best of the best - everyone wants a Grade 1 winner and a multiple Grade 1 winner is the holy grail of TB racing anywhere!
In summary:
Grade 3: 65 in any three or more stats
Grade 2: 75 in any two or more stats
Grade 1: 85 in any one stat
Racehorses may enter races of higher grade than their current level, however, it's not really recommended because the jump in level puts lower-tier horses at a disadvantage. Exceptions are races that state they are for multiple grades and horses of higher grades carry higher impost weight. Additionally, a horse usually cannot enter a race of lower grade than it is, because that would give it an unfair advantage over the other horses. So, once your horse has graduated from open level, that's the last of the open level races it will ever run! The same for the other levels as well. Usually G3 and G2 races are reserved only for horses of those specific grades.
Stats Explained
By
Neco
Here is a quick run down of each stat that is required in racing, and how it affects your runners. I'm not going to say that one stat is better than others, because it isn't! Each of these stats work in conjunction with each other, and can also affect the abilities your horse has, so please make sure you keep all of that in mind as you read over this guide!
Speed: How fast the horse runs with its closing kick. Usually speed doesn't really come into play until the last quarter mile of a race. This is when most of the horses, even the front runners, will display their "closing kick," which means their acceleration to top speed when asked by their jockey. It denotes basically how fast a horse will close into any sort of pace, or how fast a front runner will cruise to the wire.
Staying: How long a horse keep that closing kick going! A horse with a high staying factor will be able to carry his speed longer (time wise) and has the ability to be in contention for that much longer. A horse with high staying has a better chance to fend off closing rivals or a better chance to keep closing over those long final furlongs even if he's flagging a bit in the final stages. Staying works in conjunction with stamina most of the time, and it's best to try and use them together when updating your stats.
Stamina: This is similar to staying, except it applies a bit more to distance than time. A horse with high stamina will be able to run longer distances in a longer time, and this will effect his closing kick; a horse with a high stamina can keep up a sustained bid for a furlong or more, sometimes even a quarter mile or more, once he's given the signal to go. Stamina is often a great stat to have high if your horse is aiming for longer races, as even if his speed is low, he can just grind away at rivals that may have higher speed but lower stamina.
Breaking: This denotes how well and quickly a horse breaks from the gate. I've seen horses just STAND in the gate for a full second after the gate opens before breaking; I've seen others that have reared just before the break and lose that crucial few seconds. A horse with a high breaking stat will be less likely to act up in the gate (pawing the ground, prancing, etc) and will be that much sharper to shoot out when the gates pop.
Power: How strong the horse is. A horse with a high power isn't going to tire as easily or be as intimidated by his rivals; he'll have the staying power to keep on going even if he's lagging in the final 100 yards. This can also affect your horse's closing kick, as a horse with high power will often have a stronger closing kick, even if his speed isn't tremendously high.
Feel: How well a horse will settle in a race. Many times, I've seen a horse keen to go and throw his head up to pull against his rider when the jockey tries to tell him to calm down. This usually happens in the first stages of the race when horses are finding their position, and it can often happen to stalking types and front runners that just want to go go go but need to hold that speed in for the later stages of the race. A high feel can get that horse to settle a lot faster and keep those temper tantrums to a minimum.
Fierce: This is similar to courage, in how aggressive the horse is when fighting to the finish. A horse with a high fierce will often take the fight to his opponent, eyeballing them and intimidating them into submission. A horse with a higher fierce factor doesn't back down as easily from a fight and he will keep fighting on regardless of his flagging stamina.
Tenacity: How much fight and grit the horse has depends on this stat. Horse racing is all about beating your opponents to the turf, and that can often manifest into stretch long battles to the finish between two or more horses. A horse with a high tenacity stat will keep on going and fighting that other horse, while a horse with a lower stat is that much quicker to give up. This can be better translated as "how much grit" a horse has, and how tough he'll be when it comes to another horse looking him in the eye.
Courage: How brave your horse is depends on this stat! Courage can directly affect your horse's ability to go between rivals, come up into a narrow spot or even go head to head with a horse. Horses with low courage will be more timid and less likely to take the route between horses if they have an opening; they'll go around and lose that much more ground. A horse with high courage will bull his way through rivals, drive up the rail inside horses without hesitation and won't be rattled by much at all.
Response: This stat is for how fast the horse will respond to its jockey. This can be anything from a tap of the whip or steering the horse around traffic; I've seen races where a horse can get a few encouraging whacks and he doesn't start to move until a good three seconds later, while other horses will get asked once and take off like a freight train. Response is a good trait to keep high because you want your horse to respond quickly to its rider and react just as fast to the field around it, so it can easily slip between rivals or steer around a tiring horse.
------------------------------
Examples of Stat Combos
It's all well and good to have this explanation in front of you, but how does it work on an actual racehorse? Here's a few examples.
Say you have a front running speedball. You'll obviously want to work on his speed, and his breaking; that way he'll be able to get into that front running position he loves that much faster and can clear the opening rush quicker. Stamina may also come into play with him, if you want that runner to keep up over long distances - a front runner can be at a disadvantage over 10 furlongs or more. Give that horse some high tenacity and response and you have yourself a great recipe for a front runner that won't quit and will rise to the challenge when confronted by a rival.
A closer has a different set of stats that can affect her. You'll want speed, sure, but also stamina and staying to give her that grinding ability to wear her rivals down to the finish. Response needs to be high to keep that horse in tune with her rider, and a high tenacity and high courage will give her the ability to go between horses for a dramatic come from behind victory or gut it out with a stubborn front runner.
Personally, I would recommend trying to keep your stats within a 3 - 5 point window of each other for an all rounder type of horse - when training, I try to keep everything relatively even, with only Breaking one that I train up only once. When the horse is gaining points through racing, breaking is probably the last I update unless it's a frontunner; I'm more focused on the other stats. If I'm upgrading a horse to GIII, I'll usually focus on Speed, Staying and Stamina first to get them up to 70s (I'll usually get speed up at least 5 pts higher than the others, this goes for open level as well) and what other stats I upgrade next depends on the horse's leg type and abilities. Some abilities play so well into your stats - Grit will directly affect "tenacity" and Closer will have a say in your "stamina" stat. Instant Response is pretty self explanatory, while Spurt and Stretch Burst affect the speed stat.
------------------------------
Breeding Racehorses
Here's how you'd go about breeding your 2nd/3rd/etc generation of racehorses to expand your stable!
How to Calculate Racehorse Foal Stats
When breeding two racehorses together, you'll have to go about combining their stats for their foal(s) - any 2nd generation Thoroughbred will inherit certain stats from its parents as both a reward and a bonus. Which stats are completely up to you!
To figure out the stats of your new foal, pick the 3 highest stats from EACH parent - three from the sire and three from the dam. Subtract 50 from each stat - so say if the stat was 65, it would be 65 - 50 = 15. Then take the difference and divide it by two - so if we continue to use our 15 example, it would be 15 / 2 = 7.5 or round up to 8. If any stat comes up with a decimal, simply round up to the nearest whole number. Your final number will be the integer you received after dividing by two. Add that many points to that stat to your foal.
Here's an example of how it should look:
Sire
Speed -- 65 - 50 = 15 / 2 = 7.5 = 8
Staying -- 60 - 50 = 10 / 2 = 5
Breaking -- 55 - 50 = 5 / 2 = 2.5 = 3

Dam
Fierce -- 63 - 50 = 13 / 2 = 6.5 = 7
Courage -- 72 - 50 = 12 / 2 = 6
Response -- 58 - 50 = 8 / 2 = 4

So then your foal would look like...

Speed: 58
Staying: 55
Stamina: 50
Breaking: 53
Power: 50
Feel: 50
Fierce: 57
Tenacity: 50
Courage: 56
Response: 54
What happens if two of the highest stats of your parents are the same? You can either choose a different stat if you want a more well rounded foal, or you can add the final numbers together after dividing the difference by two. So, say your horses both have high Power stats, so you'd do...
Sire
65 - 50 = 15 / 2 = 7.5 = 8

Dam
62 - 50 = 12 / 2 = 6

Foal
50 (base) + 8 + 6 = 64 (final stat)
You may only do this ONCE per foal, and that's only if two of the highest stats on the parents coincide. Our goal is to have well rounded foals that aren't too heavily skewed one way or the other.
Breeding Bonus!
So now you have your foal with some nice stats... but look at all the those ugly 50s! 50 is the base stat on any racehorse, the lowest you can get, and since foals start out basically from scratch, they begin at 50 until you give them their points from their parents' stats. Most of the time, it may not be a be a problem, since you can train your foal up and get those 50s into some more well-rounded numbers. But what if your foal already has 60+ in four stats, and is therefore unable to train? He's at a decided disadvantage against other horses that have had the benefit of training, despite the fact he got a bonus from his parents.
After figuring out the foal's stats from its parents, to make your foal on par with the other trained runners, any stat leftover that has "50" will get an extra 5 points. So if your foal up there previously looked like this after your calculations...
Speed: 65
Staying: 64
Stamina: 62
Breaking: 50
Power: 60
Feel: 57
Fierce: 50
Tenacity: 50
Courage: 57
Response: 50
He has 60 in four stats, so he can't be trained up. However, with the foal bonus he gets, adding "5" to each 50 stat will transform him into:
Speed: 65
Staying: 64
Stamina: 62
Breaking: 55
Power: 60
Feel: 57
Fierce: 55
Tenacity: 55
Courage: 57
Response: 55
And now he's on par with the rest of the trained racers! You now have yourself a competitive bred horse to continue your Thoroughbred line on the flats.
STAT LIMIT: The highest stat your foal can have is a 70! Anything higher and the foal has an unfair advantage against other Open Level horses. Competition on all levels is important, and I'd personally rather horses work their way from the lower ranks to the highest, rather than have a foal born with G2 stats. After all, that doesn't happen on the track - just because your daddy is a G1 winner doesn't mean you will be too!
Tips
By Neco
After running and training Thoroughbreds for over 5 years, I wanted to create a smaller guide with all the insight I've gained to help newer owners and trainers out that are just getting into the game or oldies that wanted to find some new tricks to play with. This is pretty much how I play the game ALL the time, and hopefully it will be anyone else out that finds that they're struggling a bit or they need some more insight on how to really get their stable moving.
------------------------------
Tip #1: Fully train your horses!
I cannot emphasize this enough! There are at least two active Thoroughbred training threads, so please utilize them to their full capacity! Too often I see a horse that's either completely untrained or a horse that has the mid-to-low 50s for its stats entered in MSWs or even stakes against more accomplished horses and I actually get really sad, because I know that horse doesn't have a chance. While Gallop Racer is more focused on abilities, stats also play a huge role - you're not gonna win against a horse that has 70s in its stats with incompatible abilities if your horse has only 50s for stats and even great abilities.
There is no limit on how many times you can train a horse per day/week, and once it has 60+ in at least four stats, the horse has a pretty decent chance on coming home in one piece and not 20 lengths behind the leader. I can say from experience that I've taken horses that I've just finished training, popped them in a maiden race and they've won against more experienced horses, just because I've given them the chance to compete fully trained, rather than going in half-cocked.
Tip #2: Pick complimentary abilities!
Picking abilities can either be the bane of your existence or the most fun you've had all week. Each horse is allowed three abilities, with two positive and one negative. The negative one doesn't particular matter; they're all terrible, some less so than others, but they all work to the detriment of your horse, to give everyone what we call a level playing field. Your horse can't just be awesome at everything he does; sometimes he'll hate an off going, or he'll lose focus after getting the lead, or he'll decide to make a left turn at Albuquerque coming into the stretch. Horses have quirks and you can't really help that when you pick your negative ability.
HOWEVER, you can with your positives! Complimentary abilities are a pair of abilities that strengthen each other or play off your horse's leg type. For example, say you have a front runner; two great abilities to pick would be "Front Runner" and "Second Wind," which allows your horse to run in front, like he wants, and gives him another spurt to the finish. Do you have a closer? "Spurt" and "Stretch Burst" are also great to put together, along with "Spurt" and "Last to First," which are basically built for those one-shot runners. A stalker or follower may also benefit from "Last Corner Leader" and "From Outside," as they tend to roll around pace setters when they get going, and sometimes there's little you can do to stop the Thoroughbred Train.
READ all of the abilities to make sure you know what you're getting into, and can find a pair that really compliment each other.
Tip #3: Play to your horse's track preferences!
This goes for both surface and distance. I've seen a number of trainers over the years of hosting races enter their turf horses in a dirt race, or vice versa. As a general rule, a horse that is great on one surface will not run well on a surface it is merely "okay" at; I learned this myself the hard way when I first started racing. I had a number of dirt horses that I entered in EVERYTHING, and as a result, I pretty much threw them against a brick wall. They tried, but couldn't compete against horses that excelled at turf racing and would often finish behind horses that weren't as accomplished but had a huge advantage because they were relishing the track surface.
As a rule, if your horse is a dirt horse, enter him only on dirt; the same goes for turf horses. If you do this, you give your horse every single chance it has to excel in its career and you'll generally find your in the money percentage and win percentage nearly double if you play to your horse's strengths.
Tip #4: Enter your winless horses in Maiden Races only!
I say this because once you venture into stakes and handicaps, the quality of horses tends to skyrocket, as these horses tend to have wins and in the money placings that have ratcheted up their stats and give them a heady advantage over a newcomer that hasn't won a single race. While I do use a weight spread on all of my stakes/handicaps, there is only so much different a horse with an impost of 105 lbs can do to compete against a horse that carries 118 but has much higher stats.
When you enter a maiden race, you are generally on a level playing field and while you may occasionally run into a monster that was bred from high-statted parents, that likelihood is usually less than 10%. More often than not, you'll find horses with stats in the low 60s that haven't done much in their career yet and with everyone carrying the same weight, it's based sheerly on talent with no need to level the playing field by weight. If your horse has similar stats and isn't facing down a rival that's nearly Grade 3 status, you'll find you have a much higher chance of placing in the Top 3, if you play to both your horse's strengths and short comings.
Tip #5: You DO NOT have to enter the maximum amount of horses!
Just because the limit per person is 3 doesn't mean you always have to enter that many. What I've found over the years is that sometimes you have a horse that is just completely dominant over any other horse you have running, and it pretty much smashes the rest of your string into the ground with its awesomeness. We're all in this game because we love horses and we tend to get frustrated if we see some of our horses consistently almost get there or finish far behind the next Secretariat - and that horse happens to be one of our own!
If you feel like you have a horse that is completely dominant - only enter that horse! I know, you feel like you're cheating yourself out of two extra spots but look at this way. If you only enter that big bad, you'll get him out of the way quicker if he's consistently placing in the Top 3, and you won't have your other horses with consistently low placings behind that horse to muddy up their records. I do this all the time - if I feel like I have a horse that just constantly is placing higher, I'll focus on that horse exclusively in its required niche, and put my others on a short layoff or spot them in other races where I feel like they can do well. You're not cheating yourself out of extra placings; you're putting your horses exactly where they need to be to excel.
Tip #6: Don't jump grades too quickly!
I have seen this a lot and maybe it's just me being picky, but I can't stand it if I have a Grade 3 horse with a stat still in the 50s or a Grade 2 with a stat in the 60s. Sometimes you can't help it - you're running your horse in a race, it finished outside of the Top 5 and the race host gives it a point where the horse is then bumped up to the next grade. But if you have the choice, try to round out ALL of your horse's stats until you're pretty much forced to make it a grade higher.
I do this with all of my horses if I possibly can and I've found that this gives them a slight edge over the rest sometimes. A horse that has all 60s tends to be do better in graded events compared to ones that have 50s somewhere in their stats, while the same can be said for Grade 2 horses - a horse with 70s has an advantage over a horse with only two 70s stats and the rest 60s.